BEWARE, please! This book contains explicit sexual content and may or may not contain Erotica &/or BDSM content as well. As such, it is not suitable or appropriate for readers under the age of 17 or readers who would be offended by this subject matter. My review may also contain conversation of the same. This warning has been extended to include some NEW ADULT as well.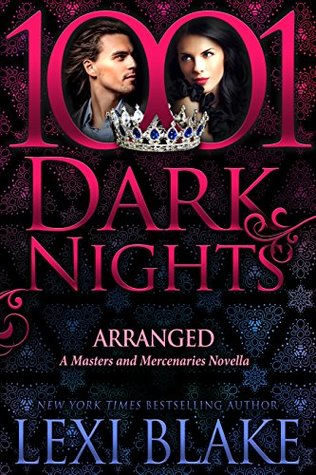 Arranged by Lexi Blake
Series: Masters and Mercenaries #13.5
on 01 April 2017
Genres: Adult, Contemporary, Romance
Pages: 220
Format: Paperback
Goodreads



Kash Kamdar is the king of a peaceful but powerful island nation. As Loa Mali's sovereign, he is always in control, the final authority. Until his mother uses an ancient law to force her son into marriage. His prospective queen is a buttoned-up intellectual, nothing like Kash's usual party girl. Still, from the moment of their forced engagement, he can't stop thinking about her.

Dayita Samar comes from one of Loa Mali's most respected families. The Cambridge-educated scientist has dedicated her life to her country's future. But under her staid and calm exterior, Day hides a few sexy secrets of her own. She is willing to marry her king, but also agrees that they can circumvent the law. Just because they're married doesn't mean they have to change their lives. It certainly doesn't mean they have to fall in love.

After one wild weekend in Dallas, Kash discovers his bride-to-be is more than she seems. Engulfed in a changing world, Kash finds exciting new possibilities for himself. Could Day help him find respite from the crushing responsibility he's carried all his life? This fairy tale could have a happy ending, if only they can escape Kash's past…
---


Arranged is a novella and book #13.5 in the Masters and Mercenaries series by the lovely Lexi Blake.  
I have to say that I was a little torn on this one at first. Not because the writing wasn't spectacular as always because that never changes. Thank goodness! It was because with this one here the roles were switched around a bit and to be honest, it threw me off a little. I am in no way judging, it's just preference speaking.  Having said that, by the end of the book I must say, I was hooked. Lexi just may have changed my mind and shown me what I might be missing.
Let Us Begin…
For all of us who have read all of the Masters and Mercenaries series we all know who Kash is!  He first appeared way back in Ian and Charlotte's book Love and Let Die… and he showed up again in Jesse and Phoebe's book You Only Love Twice.  He is quite a character and playboy but it's very hard not to love him.  I always knew there was more to him than just being a bored promiscuous King so I'm very happy about this book. I learned a lot about him and fell in love with him all over again, or fell in love for the first time with the real him.
Dayita (Day) turned out to be an amazing character herself.  I never have any doubt that Lexi will give me a female character with some big balls. (She scared me a little with Phoebe but of course came through in the end.)  Gotta love a chick who can kick ass… either literally or verbally… or both! Day can hand your ass to you with a smile on her face like none other.  She's awesome.  I was a little distanced from Day in the very beginning but by the middle of this book I was so enthralled with both characters and my heart just broke for them at times.
I absolutely adored the way Lexi planned this story to showcase Kash and his past and shed some light on possibly why he was the way he was for so long. Money and title doesn't always mean happiness. Especially when he had no preparation for his role as King. He wasn't just a spoiled King but a man, and Lexi helped him find that man inside him with Dayita.
There were a few tender moments with Kash and his Mom that really hit close to home and made me miss my own Mom even more than usual. Also the moments between Kash and Ian were pretty cool but none beat the Kash and Rai moments.  He really missed his best friend. Loved that relationship.
I truly love the fact that Lexi brought quite a number of previous characters back in this one. Simon & Chelsea, Jesse & Phoebe, Adam, Jake & Serena, Ian & Charlotte, Michael Malone, Boomer, Alex and even Kori.  Simon & Jesse got to pay quite big parts. It was nice to see them. I missed these guys!
In A Nutshell…
Great story! Lexi Blake rocks as usual! She really knows how to pack a punch even in a smaller book. It felt like a full length novel to me. She did an amazing job with the characters and the flow and of course her never ending humour. Her books would not be the same without that humour.


Related Posts