I received this book from the author and/or publisher FREE of charge in exchange for an honest review. This does not affect my opinion of the book or the content of my review.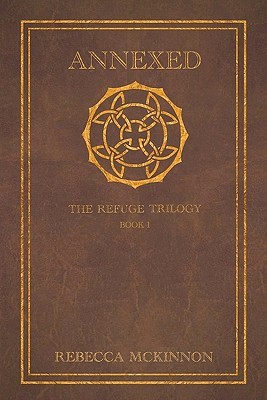 Annexed

by Rebecca Mckinnon
Series: The Refuge Trilogy #1
Published by CreateSpace on 2011-06-28
Genres: Fantasy & Magic, Young Adult
Pages: 296
Goodreads


Friends or family? Desire or responsibility? She thought she'd made her choice. Now, finding herself trapped in a world splintered from her own, Narissa is determined to return home. Learning that the means of crossing between realities has been lost, she vows to find the elusive gateway. Narissa doesn't plan to make friends. She certainly doesn't intend to fall in love. Faced with the decision, will she choose the life she wants, or return to the world where she belongs?




Colour me pleasantly surprised and delighted.  I was a little worried to start this book/series.  I agreed to read it for a review and once I checked it out I thought it sounded interesting but not necessarily my cup of tea.  That worried me because I didn`t want to give a bad review especially after being honoured with the opportunity to read these by the author herself.  Well, was I ever wrong.  I hope I explain this correctly…………… I thought in the beginning the story was going a little slowly but having said that the chapters seemed to go by very smoothly.  I know that sounds like a contradiction but I don`t know how else to explain it.  It did seem to take awhile to get moving but it also may have been me just not getting into it right away or maybe I psyched myself up for not liking it because of my initial negative reaction.
Also, the first book in a series is always the one that has more explaining to do than the others… but this one had just enough explanations to get you where you needed to be and not overwhelming you with detail.  I`m not sure what happened but I do know that once I got past that little bump I couldn`t put it down. Getting back to smooth chapters.  Each chapter was perfect.  The pages almost turned themselves.  They weren`t too long and flowed so incredibly well.  Not just the chapter itself but I mean each chapter flowed right into the next one perfectly too. The characters are so amazing!  I love love LOVE Daman.  He`s just awesome and so is the main character Narissa.  Daman`s best friends Luke and Kauri are fantastic.  I fell in love with them all and the world they live in.
I`m entirely hooked on this series and glad to say that I`ve already started the second book.  I was going to read all three books and then do a review as a whole on the series, but decided I needed to get things out while they`re fresh in my head…. and speaking of fresh… this series is what I would call a completely fresh and unique idea.  I can`t say as I`ve ever ran across anything  like this one before.  It`s a great story and I can`t wait to continue on the journey.  Bravo!!!




Related Posts