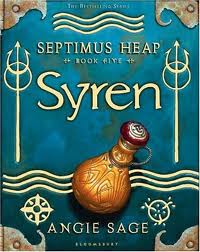 Syren by Angie Sage
Series: Septimus Heap #5
Published by Bloomsbury Publishing Plc on 2009
Genres: Fantasy & Magic, Young Adult
Pages: 628
Format: Hardcover
Goodreads


In the fifth book of this Magykal series, Septimus and his friends find themselves on an island whose secrets are as dark and dangerous as its inhabitants. Septimus Heap returns to the House of Foryx with Spit Fyre to pick up Jenna, Nicko, Snorri and Beetle. But the journey home does not go well and when Septimus and his friends are caught in a storm, Spit Fyre crashes into the Rokk Lighthouse. They are rescued by the lighthouse keeper who is disturbingly sinister, and who has an equally sinister cat … And all the while, Septimus is trying to fight the strange pull he's feeling to the island and its mysterious secrets.


Having read the first 4 books in this series I was a little disappointed in this one.  Don't get me wrong, I enjoyed it and I will continue to read anymore that come in this series, but the first 4 books were just so incredibly good that this one fell a little short for me.  It wasn't as exciting and adventurous or even as dangerous as the first 4 books.  Having said that, however, I have to say that Angie Sage's imagination for this series is right up there with the greats like J.K. Rowling!  She's phenomenal.




Related Posts