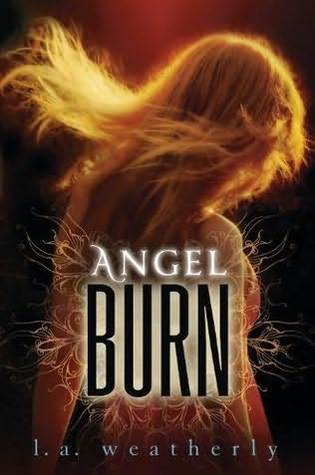 Angel Burn

by L. A. Weatherly
Series: Angel #1
Published by Candlewick Press on 2011
Genres: Paranormal, Young Adult
Pages: 449
Format: Hardcover
Goodreads


Willow knows she's different from other girls, and not just because she loves tinkering with cars. Willow has a gift. She can look into the future and know people's dreams and hopes, their sorrows and regrets, just by touching them. She has no idea where this power comes from. But the assassin, Alex, does. Gorgeous, mysterious Alex knows more about Willow than Willow herself. He knows that her powers link to dark and dangerous forces, and that he's one of the few humans left who can fight them. When Alex finds himself falling in love with his sworn enemy, he discovers that nothing is as it seems, least of all good and evil. In the first book in an action-packed, romantic trilogy, L..A. Weatherly sends readers on a thrill-ride of a road trip - and depicts the human race at the brink of a future as catastrophic as it is deceptively beautiful. They're out for your soul . . . and they don't have heaven in mind. From the Hardcover edition.




Well, I thought this was a pretty good start to a new trilogy.  I'm quite excited about it.  It was a little slow in areas and I don't like it coming from 3 different people's points of view but other than those small things the story itself was new and fresh and I really enjoyed it.  I love Alex and Willow.  Great characters.
The reason I say a little slow in parts was there seemed to be a little too much detail in certain areas.  Like too much time spent on feelings and too much time explaining certain things but at the same time, even though it might come off as a little slow for that reason alone, it also gives me more time to get to know the characters better and I liked that.   Besides, it's the first book in the trilogy.  It usually does have to be spent giving us some background into characters.  I'm sure the next two books are going to be more into action than details.  I'm looking very forward to reading them.
The last few chapters in the book were very well paced and full of suspense and action and I truly enjoyed them.  In fact I almost wish it had have been a bit longer because it was getting so exciting.
Can't wait for the rest!  Bring my Alex back to me.




Related Posts