BEWARE, please! This book contains explicit sexual content and may or may not contain Erotica &/or BDSM content as well. As such, it is not suitable or appropriate for readers under the age of 17 or readers who would be offended by this subject matter. My review may also contain conversation of the same. This warning has been extended to include some NEW ADULT as well.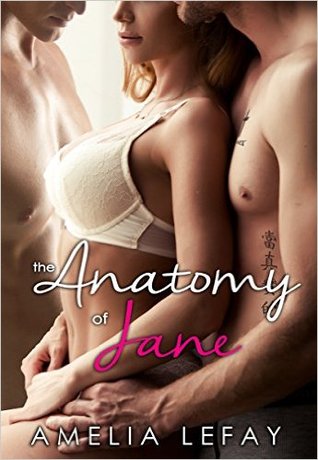 The Anatomy of Jane

by Amelia LeFay
Series: WJM #1
on 31 May 2016
Genres: Adult, Contemporary, Romance
Pages: 259
Format: eBook
Goodreads


Jane
I've always been on my own. My life used to consist of nothing but work, keeping Allen out of trouble, and if I had time, sleep. Then I became their maid.

Max
Every day more than half a million people tune in to watch my show. They trust me. I know it's because I'm the only son of the prominent Emerson family. However, I like to believe it because I'm honest no matter what story I report on. I'm honest about everything but the man I've been f**king for the last four years… and now her.

Wesley
I want three things: First, Maxwell Emerson and Jane Chapman both in my bed. Second, to be the best bloody chef in the country. Third, to figure out how to simultaneously get the first and second things I want without any of us getting hurt.

THREE PEOPLE.

ONE LOVE STORY….
---


The Anatomy of Jane is the first book in the WJM series by Amelia LeFay.
I do not know very much about Amelia LeFay and to my knowledge this is her first book… according to what I'm finding on Goodreads and her web page.  I believe this girl is brand spanky new.
So… let's get started!
I have been reading this book for a little less than a week.. 5 days maybe in total. It was so weird! Every single time I was reading the book the writing was flowing so nicely and I couldn't put it down. It was exciting and extremely hot! Yet, when I laid down in bed at night I wasn't excited about picking the book back up again. I found I had to push myself to grab it to finish it. Then once I did, I found once again, I couldn't put it down and loved how it flowed.
What the hell is up with that?  I blame it on the fact that I just finished the latest book in a favourite series of mine and my brain was still stuck on those characters somehow. I'm not sure exactly what the problem was because this book was really great! The story, the characters… the sex! Absolutely hot and steamy and wonderful!
So we have a mega-rich well known guy who is in love with his sex partner who happens to be a fantastic rich Chef. He can't let his sexual orientation be public because of his family and, therefore, he can't admit even to himself that he's in love. Then they found Jane and they both are infatuated with her and she them.  If that wasn't enough… add in some nasty family members of the rich and famous kind that frowns upon things outside of the box and you have an epic tale.
Truly this is a fast paced exciting and wicked little story.  I found I really loved it.
I might not know who this Amelia LeFay was… but I know who she is now and where she is headed. Fantastic book and truly talented writer. I fell in love with all three of the main characters and her dialogue is really witty and hilarious.
I am a little ticked off though. This book has a huge cliffy ending and dammit I cannot wait until this fall to get the 2nd book! She got me! I want it now and I can't have it! I feel like stamping my feet, but I'm supposed to be more mature than that!
In A Nutshell:
I'm a new fan!




Related Posts