BEWARE, please! This book contains explicit sexual content and may or may not contain Erotica &/or BDSM content as well. As such, it is not suitable or appropriate for readers under the age of 17 or readers who would be offended by this subject matter. My review may also contain conversation of the same. This warning has been extended to include some NEW ADULT as well.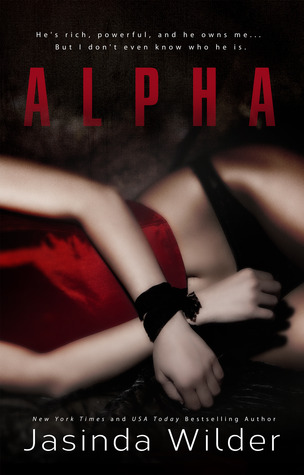 Alpha by Jasinda Wilder
Series: Alpha #1
Published by NLA Digital LLC on 2014-04-29
Genres: Adult, Contemporary
Pages: 215
Format: eBook
Goodreads


The first time it happened, it seemed like an impossible miracle. Bills were piling up, adding up to more money than I could ever make. Mom's hospital bills. My baby brother's tuition. My tuition. Rent. Electricity. All of it on my shoulders. And I had just lost my job. There was no hope, no money in my account, no work to be found. And then, just when I thought all hope was lost, I found an envelope in the mail. No return address. My name on the front, my address. Inside was a check, made out to me, in the amount of ten thousand dollars. Enough to pay the bills and leave me some left over to live on until I found a job. Enough to let me focus on classes. There was no name on the check, just "VRI Inc.," and a post office box address for somewhere in the city. No hint of identity or reason for the check or anything. No mention of repayment, interest, nothing…except a single word, on the notes line: "You." Just those three letters.

If you receive a mysterious check, for enough money to erase all your worries, would you cash it?

I did.

The next month, I received another check, again from VRI Incorporated. It too contained a single word: "belong."

A third check, the next month. This time, two words. Four letters. "To me."

The checks kept coming. The notes stopped. Ten thousand dollars, every month. A girl gets used to that, real quick. It let me pay the bills without going into debt. Let me keep my baby brother in school and Mom's hospice care paid for. How do you turn down what seems like free money, when you're desperate? You don't. I didn't.

And then, after a year, there was a knock on my door. A sleek black limousine sat on the curb in front of my house. A driver stood in front of me, and he spoke six words: "It's time to pay your debt."

Would you have gotten in?

I did.

It turns out $120,000 doesn't come free.




I read the synopsis of this and was intrigued to pre-order it.
You have Kyrie St. Claire a college student who was handed a rough deal in life with her father's passing.  She ended up having to provide for her mentally sick mother and put her brother and herself through school, pay rent, eat… survive. Very difficult for a young girl going to school.  When all seemed lost a mysterious envelope arrived with a cheque for $10,000 and a single word note.  "You".  The money and notes continue until she had the message in full, "You Are Mine!"  and a total of $120,000.  Then the final note came, "It's time to pay your debt."
Sounds fun right?  
Then we meet the man behind the cheques and the undeniable threat behind the notes.  Valentine Roth sounds like the most amazingly scrumptious character ever.  His tone and vocabulary is just to die for with a hint of danger and darkness.  I'm sold!
Kyrie turns out to be quite a spunky little character as well and I really like her.  I usually like the heroins okay in books but not as much as I liked Kyrie.  She was just a no-nonsense kind of gal and spitfire-spunky but at the same time allowed herself to indulge.  Usually you have the strong female character that just refuses to explore her feelings and scared to allow herself to let go and the hero has to drag it out of her whiney little ass right to the very end of the book. So this was kind of refreshing.  Kyrie was the strong kind of character as well except she said what she meant and didn't talk in riddles and kept herself in check but no so much so that she didn't allow herself to… feel and explore.  Yet at the same time didn't give everything away and left a little mystery too.  She had the perfect combination of both… and she definitely wasn't whiney.
When I first started reading this book I was hooked for the first few chapters and then suddenly I felt like I was reading about Christian Grey for a bit there.  I remember thinking, "crap, I don't want a clone of another character."  I didn't give up though, and I'm so glad because the similarities lasted for all of 1 chapter and then immediately he was his own character again.  A  character that I very much liked and fell in love with.
So, it turned out that I was very happy about purchasing this book and very happy that I read it and didn't give up after one little-tiny-little bump in the road.  Anyone who likes to read these types of "hot & steamy" books, which leaves very little to the imagination, this is the book for you.  It's a short read but packed with a lot of fun too.  I really enjoyed it!




Related Posts