BEWARE, please! This book contains explicit sexual content and may or may not contain Erotica &/or BDSM content as well. As such, it is not suitable or appropriate for readers under the age of 17 or readers who would be offended by this subject matter. My review may also contain conversation of the same. This warning has been extended to include some NEW ADULT as well.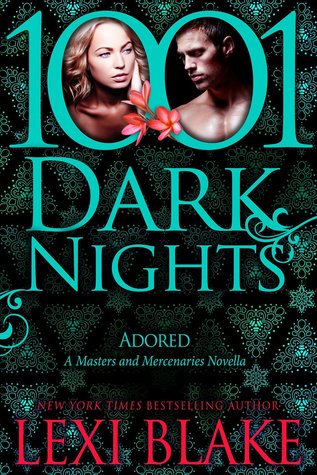 Adored

by Lexi Blake
Series: Masters and Mercenaries #8.5
Published by Evil Eye Concepts, Incorporated on 12 May 2015
Genres: Adult, Contemporary, Romance
Pages: 100
Format: eBook
Goodreads


A man who gave up on love

Mitch Bradford is an intimidating man. In his professional life, he has a reputation for demolishing his opponents in the courtroom. At the exclusive BDSM club Sanctum, he prefers disciplining pretty submissives with no strings attached. In his line of work, there's no time for a healthy relationship. After a few failed attempts, he knows he's not good for any woman—especially not his best friend's sister.

A woman who always gets what she wants

Laurel Daley knows what she wants, and her sights are set on Mitch. He's smart and sexy, and it doesn't matter that he's a few years older and has a couple of bitter ex-wives. Watching him in action at work and at play, she knows he just needs a little polish to make some woman the perfect lover. She intends to be that woman, but first she has to show him how good it could be.

A killer lurking in the shadows

When an unexpected turn of events throws the two together, Mitch and Laurel are confronted with the perfect opportunity to explore their mutual desire. Night after night of being close breaks down Mitch's defenses. The more he sees of Laurel, the more he knows he wants her. Unfortunately, someone else has their eyes on Laurel and they have murder in mind.
---
Eeeeeeeeeeek!!!!
Adored is book #8.5 of the wonderously sexy & phenomenally well written Masters and Mercenaries series by Lexi Blake.
I get so excited and tongue twisted every time I get to read a new Lexi Blake novel and/or novella that I'm like a school kid who gets to meet her teen idol or something!  I'm reading it so fast because I just can't wait to see all of my favourite characters again.  I re-read favourite paragraphs, I laugh out loud and my heart breaks when it's called for.  It's such an amazing ride!
The Meaty Goodness of Adored
Adored is like an ice cold beer on an extremely hot day.  It's like an ice-cream cone when you're feeling blue.  It's like a warm bath after a stressful day.  It's like a …. well… you get the point!
Mitch & Laurel's story is heart meltingly delicious.  Mitch came off as this tough as nails badass Dom that would not budge on any of his rigid rules including falling for his best friend's sister.  Laurel saw what she wanted and it was Mitch and she was stopping at nothing until she had him.  Mitch had a lot of things from his past that was holding him back and Laurel is the right person to help him through it.
As with all of the books in the series we get to hear about previous characters.  Maybe not all of them and some more than others, but Ian Taggart always makes an appearance.  I love this family of characters so much that it's almost painful when I get to the end of the book and have to wait for the next.
… and Sanctum (Ian's BDSM club) is bigger and better than ever!
The Genius
I've resigned myself to just start calling her that because I keep repeating myself about how good she is and how much I adore her and her writing.
Lexi did it again!   She took her little jaws of life and opened my heart up a little bit further for this series. I didn't think it was possible to love this series even more, but I do.  She seems to do it with each novel that comes out.   She writes with humour and passion and brings characters to life in such a way that you can't help but be invested in each and every one of them and their lives.  To me, these people are real. Their happiness and pain are real. I simply cannot get enough of Lexi Blake and all of her characters (especially Ian Taggart 😉 ).
Ciffhanger anyone?
Oh my God!!!!!!!!!!!
Lexi usually gives you a delicious little epilogue that gets you prepared for the next book. This epilogue was like none other.
So I was reading right along enjoying my book and I read two little tiny little paragraphs and I literally gasped.  I shook my head and screamed "No!" and decided that I must have fallen asleep while I reading because there is no way I read what I read.  I scared the shit out of my husband because he was laying beside me… sleeping!
So, I took a drink of my water that I take to bed with me and blinked a few times and started the epilogue all over again swearing that I had misread it.  Then I made it to those two little paragraphs once again.  This time I immediately starting crying.  I couldn't help it.  This time I managed to finish the rest of the epilogue and I swear I couldn't tell you what it said.  I had to get control of myself and then I re-read it this morning to make sure I didn't miss anything of Mitch and Laurel's story.
I have been racking my brain all last night and all day today trying to figure out View Spoiler »who the hell is going to die in Master No, which isn't coming out until August.  I have ran every scenario that I can and no matter which way I go, it's devastating.  I can handle just about anything but I would not be able to handle it if any of the core crew died.  Hell, I don't want any of them to die. They have all had their books and they're all married with kids or kids on the way or talking about having kids. No… none of them can die!  Maybe it's because this is the anniversary month of my brother's death and it's particularly hitting me harder, but I'm actually terrified that one of my favourites is going to leave us and I just can't accept that! « Hide Spoiler
The good news is that I trust Lexi Blake implicitly with these characters.  She created them so she loves them even more than us readers.  So…… bring on Master No!!!  I hate to wish my life away, but damn August cannot come quick enough.
Once again, another brilliant installment from Lexi Blake!!!


Related Posts