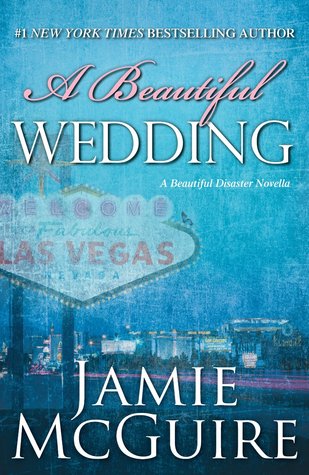 A Beautiful Wedding by Jamie McGuire
Series: Beautiful #3
Published by Simon and Schuster on 2013-12-10
Genres: Contemporary, New Adult, Romance
Pages: 160
Format: Hardcover
Goodreads


YOU KNOW THAT ABBY ABERNATHY UNEXPECTEDLY BECAME MRS. MADDOX. BUT WHAT DO YOU REALLY KNOW? Why did Abby pop the question? What secrets were shared before the ceremony? Where did they spend their wedding night? Who else knew about it . . . and didn't tell? Everything about Abby and Travis's elopement was top-secret . . . until now. Fans of Beautiful Disaster and Walking Disaster will get all of their questions answered in this whirlwind tale of the wedding day (and night!)—and as with all good stories, this one will definitely have been worth the wait.




Well, for me it was perfect.  The perfect ending to the perfect story.  I know some readers are getting tired of reading the same story with the release of each book because ultimately it's the same story just told in a different way or by different people. Personally I don't care about that because I love this story so much that it doesn't matter how many different ways you tell it to me, I'm gonna read it and I'm gonna enjoy it!  Seriously!  For me, it's just one of those stories that will stay with me forever I think.  I love it!   So much so that I read Beautiful Disaster 5 times and Walking Disaster 3.
This one here was a lot different than the first two because it told the whole story after Abby's proposal to Travis and the journey they took to Vegas to get married.  It was awesome!  It shed light on the whole proposal as well as delved further into Abby's true feelings for Travis Maddox.  In addition to that it took us on the journey with them and let us see the wedding instead of one chapter proposal and next chapter they're on their way home getting yelled at by her best friend America.  Yes, I know it was a one-night wedding in Vegas and not a huge display, but still we got to see it… or rather read about it, but you know what I mean.
There were just so many little tid-bits in this one little book that I loved so much but my favourite I think wasView Spoiler » the letter that Travis gave Abby from his mother.  Oh my gosh!  That was so sweet!   « Hide Spoiler
I don't know… some books just speak to you and this entire series spoke volumes to me.  I adored this one just as much as the first two in the series.  Love these characters.  Love Jamie McGuire's writing.




Related Posts